Please note:
The original piece in Italian was written during lockdown.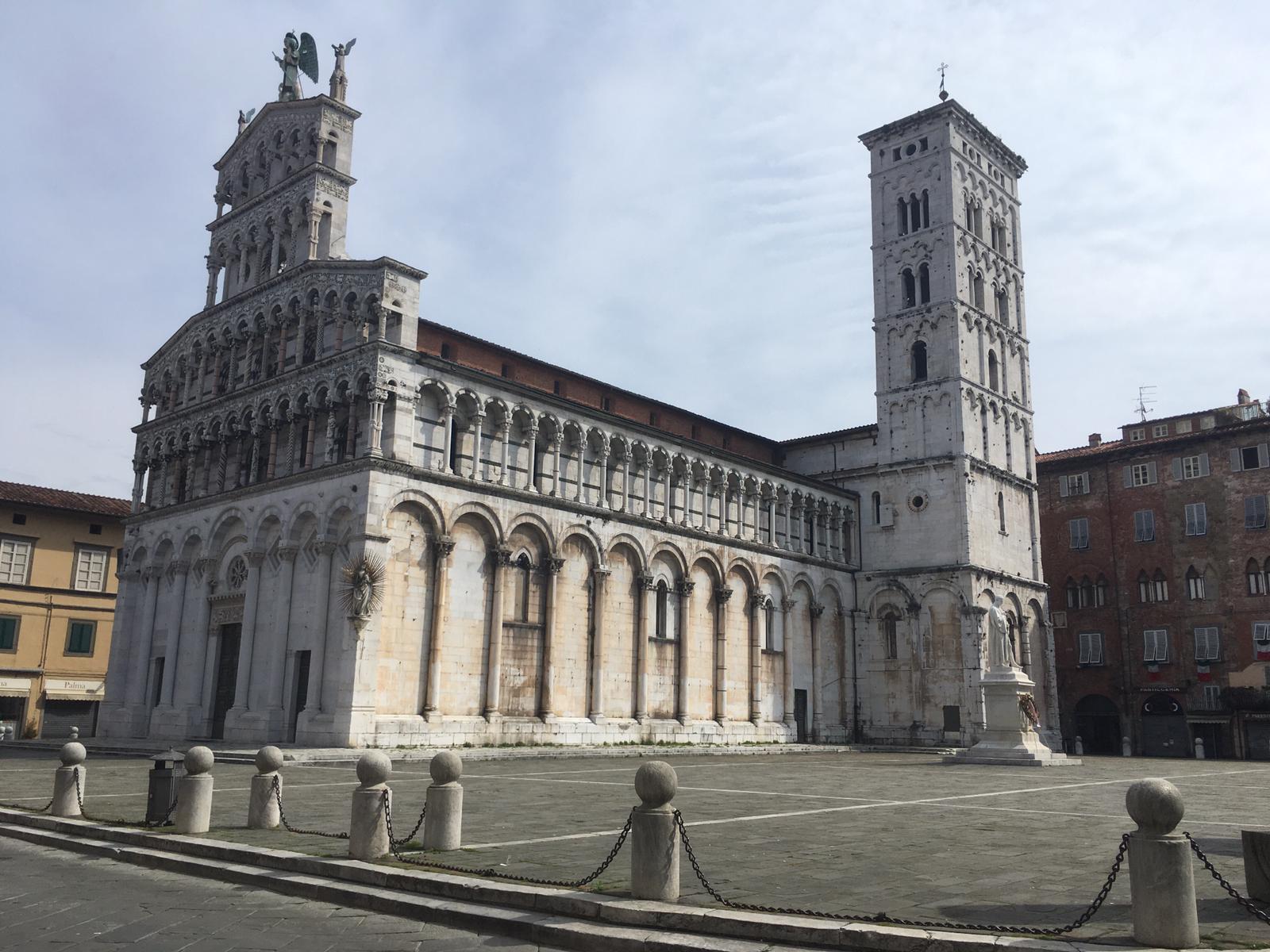 Tap the screen, then tap the logo with the white 'f' in the blue square, look at the images. Stop and look at some of the posts that show Italian art cities, including Lucca, on Easter Monday.
Video of Florence: Duomo, Baptistery, Piazza della Repubblica, Santa Maria Novella, Piazza della Signoria, the Arno River embankments.
Video of Lucca: Via Fillungo, Amphitheatre, Piazza San Michele, the intersection at Via Fillungo and Via Roma. Deserted streets and squares everywhere. Only empty buses going round along their designated routes much like scale model electric toy trains moving along a track.
Footage after footage, shot after shot, videos and photographs clearly show how everything seems suspended in time and underline that something important is missing: life.
I look at the comments and am disconcerted by what I read.
"Fantastic", "How beautiful Florence looks this way", "Lucca, how beautiful! Will we ever see it like this again?" and so on with enthusiastic comments, some even expressing regret at perhaps never being able to see these cities so magical again.
Perhaps, I'm a lone voice. I'm certainly not a misanthropist. However, when I saw the images and read the comments, not only was I left thunderstruck, but my heart slowly filled with a painful melancholy.
I love art and history and consequently, the birth, evolution, life and decline of the stratification which has made our Italian cities, with their buildings and monuments, examples of culture and civilization. But I want to see the cities…ALIVE!
Buildings, squares, shops, monuments designed and built for the use and enjoyment of human beings.
Everything is infused with the lifeblood of those that wanted and constructed them; the lifeblood of human existence.
The mammoth-size buildings like cathedrals, the Leaning Tower of Pisa, galleries and museums like the Uffizi and thousands more which I could list, would have no reason to exist as mere virtual objects. If we could not physically admire and experience them, almost as if they were tactile values, they would be hard to preserve and would become fascinating ruins like those of Pompei, Selinunte, and many lost civilizations.
How can we not appreciate smart devices today? This article is a concrete example of their usefulness, nevertheless nothing beats experiencing something first-hand.
As a tourist guide and therefore cultural mediator, I want and am able to offer direct and concrete emotions regarding everything I wish people to see. I'm the software, the interface between the concrete subject/object and my client(s). Offer the possibility, or perhaps the illusion, to directly enjoy, with one's own eyes, all the beauty generated by man. Allow the traveler the possibility to experience the "Stendhal Syndrome" many times over.
The famous Argentinian singer Mercedes Sosa, hailed the "Voice of Latin America", sings a Chilean song called "Todo cambia" and it's true, everything changes. Nevertheless, even if we must rethink the ways of gathering people together and limiting access, for a time, to the spaces we usually enjoy on a daily basis, the human factor cannot be ignored.
Thinking back to the images of deserted cities, devoid of life, my work and my cultural roots imbued in figurative art make me contemplate the following: the almost subliminal influence bequeathed to our culture by many great artists who, through time, have given us emblematic examples of the portrayal of 'absence'.
First of all, the 'Ideal City' comes to mind, an anonymous work of art in the National Gallery of the Marche in Urbino.
This wooden panel painting is one of the most superior examples of abstraction yet, at the same time, rational mathematic theory creating the illusion of space typical of the Italian Renaissance. And not far from this perfection, although it appears to have been done with randomness, is Caravaggio's basket of fruit.
The composition is artfully reproduced, much like an architectural structure, and seems designed in pure rationalist style. In the perfection of the colorful fruit, even with some natural decay, we perceive, paradoxically, an absence of time marked by the absence of the human element.
Lastly, the paintings of Giovanni De Chirico, are perhaps even more fascinating and rich in symbolic references. He was the first exponent of Metaphysical Painting in which the constraint of physical coordinates is violated.
De Chirico was a follower of the philosophy of Nietzsche and to him, the artist was a superhero. A singular individual who was part of an elected inner circle of melancholy people, distant from other human beings, able to choose and reshape the things around him on par with a Man-God. The suspension of time, a state of waiting, and then, overcoming being.

I believe that many of these artistic examples have become, perhaps unconsciously or subliminally, the intellectual archetypes of the enchantment many of us have been experiencing in these days.
Spaces dilated by time, where every day feels the same as the last, tending toward an indefinite and limitless future.
A deprivation at the root of our everyday life.
A 'divine' dimension, some might say? Maybe. But my deeply ingrained human essence fiercely urges me to overcome this condition and get back to everyday life in normal, human cities, cities full of people.
Gabriele